Tantra news: Upcoming events
Hello beloveds* - some news for you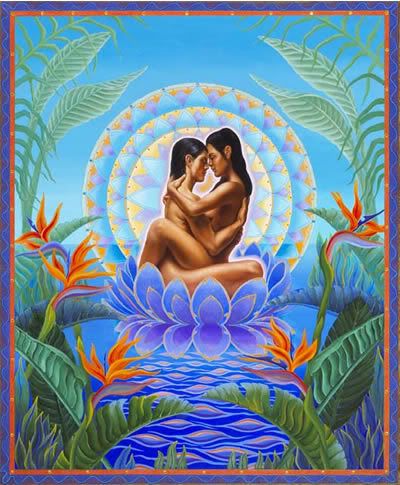 First of all: You are loved more than you could ever imagine. Secondly, you live in a sensual world because you are meant to enjoy. Thirdly, in the words of Christa Loots, "Once we feel the horns on the head of an angel and stroke the soft wings of a devil, understanding can begin." So, may in this year we find the beloved everywhere.

Please note that you do not need to have a partner for any of the events.

Single people welcome!

Regular events

Blissdance

: Most Wednesdays 7.15 - 9pm at 12 Windsor Road Kalk Bay. Cost R80 Blissdance is an expression of Tantra in motion, a very direct and experiential way to connect sexuality with heart. Let go the body armoring you no longer need, and get close...

WaterBliss

: First Thursday of the month 7 - 8.30pm Noordhoek. Cost R130 includes meal afterwards. WaterBliss is a more advanced expression of BlissDance. It consists mostly of floating each other in a heated pool, and softly caressing with dolphin touch.

Love Club

: 26 February and 12 March 7 - 11pm Fish Hoek. Cost R300. This friendly gathering of Tantra enthusiasts is an opportunity to share tantric practice under my guidance.

Tantric meditations

: I am contemplating having a bi-weekly Tantric meditation class which may be located in town. Meditations will be an hour, and at the end of the day. Let me know if you would be interested.

Unique events

Tantra for Lovers of Life

: Two half day workshops

14 February

Hout Bay. In the morning workshop you will be taught Tantric meditation techniques. The afternoon workshop is an exploration of Tantric touch. R350 per workshop.

Tantra Girls' Night Out

: Thursday

19 February

.

An evening at the Grand Cafe in Camps Bay for women only. Dress up in your finest and we'll spend the evening talking about sex and tantra for women over some delicious food.

Tantric Awareness Retreat

20 - 23 March

2009 Knysna forest. An in-depth exploration of unconscious aspects of our sexuality and a beautiful opening into heart-centered living where the sacred and sexual are integrated. R2 300 pp all inclusive

Conscious Sexuality Intensive

22 - 27 May

2009 Transkei. Five days of immersion in Tantric practice at a pristine retreat center on the Wild Coast. Facilitation fee R1 700pp; accommodation and food costs by your selection.

To book for any of these events or find out more about them, have a look at

shakti.co.za

, and email me on

shakti@shakti.co.za

. I send out separate emails on each event as well.

Private consultations

I do private sessions with individuals and couples from my home in Fish Hoek. Individual sessions are up to 2 hours; cost R900. Couple sessions are 2 - 3 hours; cost R1 200.

Tantra items for sale

Beautiful Tantric Breast Calendar R120.See

http://sweetart.co.za

I have copies of the following CDs for sale at R120:
Heart Meditation by Rahasya
Death Meditation by Rahasya
Quantum Light Breath
Tantra and abundance
An interesting pattern to check for yourself: I have found that the conscious use of sexual energy supports a flow of abundance. Energetically, sexuality and money reside in the same chakra (sacral). Participation in Tantric events, or coming for private sessions, can literally bring more ease and joy in your relationship with money. So in deciding whether to participate in an event that attracts you, be guided by a voice stronger than your fear... And you may be pleasantly suprised.
Pass this on to your friends, and let me know if you don't want to be on my mailing list any more
With love
Shakti
* "Beloveds" is a term I use to say that I the divine, existence, the beloved, in you.